New Deal hat nun zum ersten mal Reissue Skateboards aus den 90ern sowie einige Shirts und Sticker wieder aufgelegt. Wir lieben es. 1990 ist zurück mit all den coolen Sachen von der Marke, die früher etwas ändern wollte (und geändert hat). Welcome back NEW DEAL SKATEBOARDS!
New Deal Skateboard Products wurde 1990 von Paul Schmitt, Steve Douglas und Andy Howell als Plattform für seine Teamfahrer und Künstler gegründet, um ihre Kreativität auf und neben dem Board frei zum Ausdruck bringen zu können. Neben der Marke New Deal brachten die 3 Gründer außerdem Underworld Element (der Name wurde später auf Element Skateboards geändert), Mad Circle (ins Leben gerufen von Pro Teamfahrer Justin Girard), 411 Video Maga- zine (mit Teamfahrer Josh Friedberg), und Zero Sophisto (von Andy Howell) und einige andere Firmen, die Skateboarden, Skate Art und sogar die Mode Kultur, so wie wir sie heute kennen maßgeblich beeinflusst haben.
Sargent Monkey Bomber, Howell Tricycle Kid, Douglas Chums, Templeton Cat, Morrison Bird Hand, Siamese Doublekick und das Spray Can deck sind einige der wieder aufgelegten Reissue Boardgrafiken. Alle sehr sehenswert und bestens zum Skaten oder Sammeln geeignet.
Andy Howell
New culture of street skating, street art, hip hop music, and DIY aesthetics.
Steve Douglas
Skate videos, team, marketing, disrupting the skate industry.
Professor Schmitt
The original skate engineer, innovator, concave, wood shop.
Teamfahrer 1990-1992
Andy Howell
Ron Knigge
Steve Douglas
John Montesi
Danny Sargent
Chris Hall
Andrew Morrison
Rene Matthyssen
Fred Olande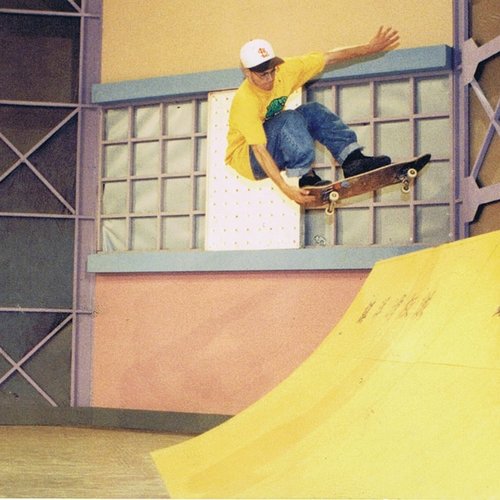 Justin Girard
Rick Ibaseta
Ed Templeton
Mike Vallely
Armondo Barajas
Hazze Lindgren
Quelle: https://newdealskateboards.com/our-story